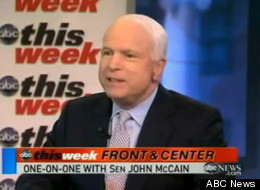 "With all due respect, I think this is a serious issue," said McCain on ABC's "This Week." "I will even give the president the benefit of the doubt on some of these things. We need a select committee."
Still, the senator did tell ABC's Martha Raddatz on Sunday that he does believe the Obama administration's response to the terrorist attacks in Benghazi on Sept. 11, 2012, constituted a "cover-up" because "there was willful removal of information, which was obvious."
"She had to have been in the loop some way, but we don't know for sure," he said, adding that he would like to see Clinton back on Capitol Hill to testify again.
"We need a select committee that interviews everybody," he said. "I don't know what level of scandal, unquote, this rises to, but I know it rises to the level where it requires a full and complete ventilation of these facts."
HuffingtonPost